Slow Roasted Coquelet with Braised Market Vegetables
[column col="1/3″]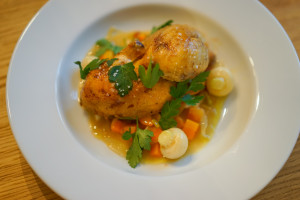 [/column]
I don't write as many recipes for the blog as I would like to. This is my attempt at fixing that. I was at the market the other day looking around for what to buy for the week and the coquelet caught my eye. (Coquelet are known as poussin in english and are basically chickens that are less than 28 days old and weigh between 400-450 grams.) As the days here in Paris have been quite chilly, I thought that a nice lunch would be some braised veg along with a half a coquelet making buying one for around 6 euro a pretty cheap meal for both my wife and I. Because they're small they don't take a long time to cook up which is also nice. Although I decided to let it slow roast, you could easily just turn your oven up and have it on the table in about 25-30 minutes. Below is my recipe for slow roasted coquelet with braised market vegetables. I hope you enjoy!
On a side note, I've been wanting to get into documenting more some of the dishes I make for the private dinners and tasting menus that I do. I try and change up the dishes just about every time I have a new event so a lot of testing gets done. Some work, some don't. This is hopefully the beginning of a chapter where I will be sharing more of the dishes I produce from the picnics to the dinners.
Cheers,
Justin
Slow Roasted Coquelet with Braised Market Vegetables
Coquelet slowly roasted in the oven with markets vegetable braised in white wine and chicken stock.
Ingredients
1 Coquelet
1 onion, sliced
2 carrots, chopped
1 clove of garlic, cut in half
2 ribs of celery, chopped
2 tablespoons flour
2 cups chicken stock
1 cup white wine
1 tablespoon dijon mustard
Salt and pepper
Herbs to garnish
Instructions
Set your oven to 105C
In a pan on med-high heat, add some cooking oil and brown the coquelet on all sides
Once browned and the skin is crispy, transfer to a baking dish or oven safe plate.
Brush with a little more cooking oil and season with salt and pepper
Place the coquelet in the oven
In a pan on med, heat your cooking oil
Add onions and sweat for 5 minutes or until translucent
Add celery and carrots and cook for 5 more minutes
Add the garlic and cook for 1 more minute
Add white wine and cook it down but don't let the pan dry
Add the flour and let it cook for 5 minutes to cook the taste of the flour out
Add the chicken stock and bring to a simmer
Let the vegetable braise until the coquelet is done. About 20 minutes
Stir into the vegetables the mustard and season with salt and pepper
Don't forget to check on your coquelet. once the thigh registers 60C with a thermometer, you'll want to take it out and let it rest for 5 minutes tented with tin foil or a kitchen towel.
Once the coquelet is rested, I cut it in half with kitchen shears and serve it on a bed of the braised vegetables
Garnish with herbs and serve
---
---