Cecy & Omar's Romantic Paris Anniversary Celebrations
[column col="1/3″]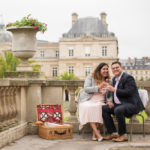 [/column]
When Omar contacted us wanting to plan the perfect anniversary surprise for his wife Cecy we jumped right in to planning an amazing and unforgettable day for the both of them! With Pictours Paris we organized two photo sessions, one in the morning and another at sunset to capture the Eiffel Tower sparkling, plus a lovely picnic lunch and Private Dinner! Read on to hear more about their perfectly Parisian anniversary! Cheers, Justin.
'We just received our pictures. They are beautiful! Lindsey and Justin went above and beyond. Everything was a surprise to me from the morning Photo Session to the exquisite morning Gourmet Picnic at Luxembourg garden, prepared by the wonderful Chef Justin. Needless to say he has ruined Frittatas for me, because his are simply the BEST!
That anniversary morning was definitely breathtaking. Lindsey was sweet, helpful and not to mention willing to go along with our crazy picture requests. The evening came quickly and to my sweet surprise my husband had scheduled a night photo session with Lindsey as well and a Private Dinner at Chez Kent (Lindsey & Justin's home) to complete our perfect anniversary!
Pictours Pars and Picnics Pars are amazing! I wish nothing but the best for both you!" – Cecy & Omar
See more of Cecy & Omar's Photo Sessions!
Learn more about Pictours Photo Sessions!
---
---