Brandon's Romantic Surprise Proposal and Picnic for Portia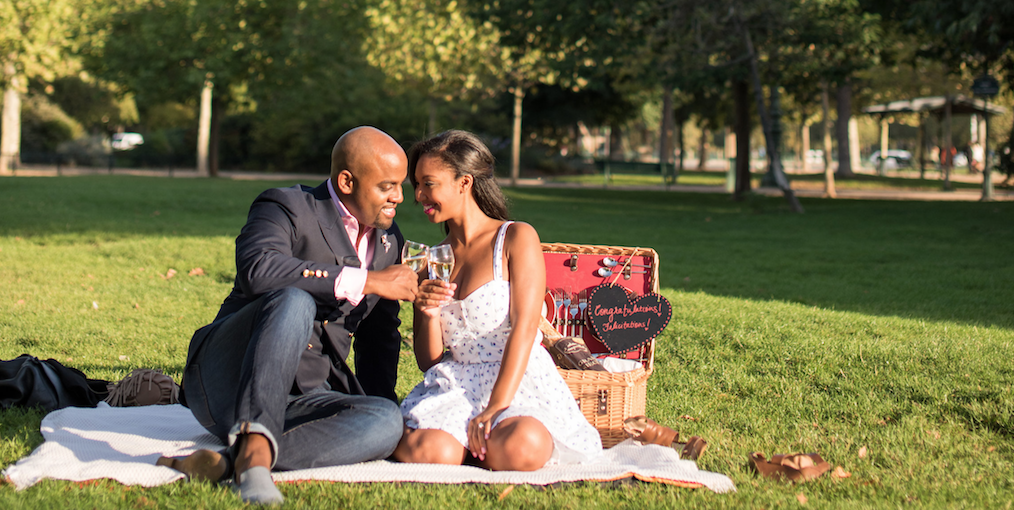 [column col="1/3″]
[/column]
Brandon wanted to create the perfect romantic surprise for his then girlfriend Portia while they were in Paris, so what better than to pair their Pictours Paris Surprise Proposal with a Picnic at the Champs de Mars with Picnics in Paris! Read on to hear more of their story. Cheers, Justin.
"Wow!! What an experience! My now fiance proposed to me while we were on a European tour which included a 5 day stay in Paris. On our third day, we had plans to go see the Eiffel Tower. Little did I know, It was going to be an experience that would last a lifetime. Shortly after we arrived at the Trocadero, he proposed (see pics). I was in awe! Little did I know, that was just the beginning. He then points to this beautiful woman with a camera pointed at us (insert Lindsey from Pictours Paris). She was amazinig! We took our engagement pictures right after the Surprise Proposal and then moved on to a beautiful catered picnic by her husband Chef Kent from Picnics Paris! The food was amazing, and so was the champagne ;)! I promise you will not be disappointed with Pictours Paris! Everyone has commented on our pictures and we have received many requests to have engagement photos used in advertisements! Thank you Lindsey and Kent for a memory that will last a lifetime! We will remember you forever!!" – Portia & Brandon
To see more of Portia & Brandon's Surprise Proposal and Picnic.
Learn more about Surprise Proposals with Pictours Paris.
---
---