Aiyetero's Surprise Proposal and Picnic for Erica
[column col="1/3″]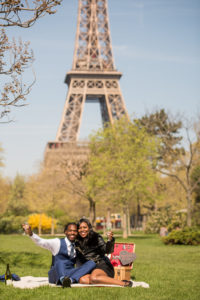 [/column]
We love working with Pictours Paris to create romantic Surprise Proposals and Romantic Picnics  like Aiyetero's double surprise for Erica! First he surprised her with his proposal, then he gave her a surprise picnic to celebrate their engagement, how romantic! Read on to hear more about their story. Cheers, Justin.
"It was a beautiful morning in Paris, on April 20th. My now fiancé told me that we had reservations to eat at the eiffel tower at a certain time, but it wasn't time for us to go there yet. So we decided to take a walk around this beautiful bridge. We stood there and talked and enjoyed the beautiful sight of the river. It was getting chilly standing there and talking for a while and I was ready to go, but he keep trying to keep me in the same spot. So I relaxed and listen to him, then all of a sudden he went down on one knee and proposed! I was in shock and couldn't believe he surprised me and proposed! He had all of this planned and he proposed at11:11am, a special time for us. After he proposed , he told me to look over to the right, there was Lindsey and Charles, photographing and filming the entireSurprise Proposal . Then, we took some more photos together, then we walked to this beautiful park. My fiancé had planned another surprise: a romantic Gourmet Picnic with Lindsey's husband Chef Justin Kent. It was all so nice and the food and wine were perfect !!!
My Favorite Part of my Pictours Paris experience was the whole Photo & Video shoot with Lindsey! Lindsey was great and I really enjoyed this amazing experience. My fiancé and I had so much fun during the whole entire shoot and picnic, and our photos and videos are amazing !!!!" – Erica & Aiyetero
See more of Erica & Aiyetero's Surprise Proposal and Picnic!
Learn more about Surprise Proposals.
---
---